---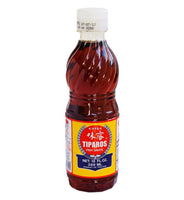 This authentic Thai Fish Sauce from Tiparos has been rated as one of the best, authentic fish sauces that you can buy.
Produced in Thailand to a traditional recipe.
A staple and essential product in Thai and Asian cooking, Fish Sauce which is called Nam Pla in Thai is used in Thai cooking in a similar way to soy sauce. Our Tiparos fish sauce has great reviews, and is not as salty as some other brands and as such gives a more rounded flavour.