---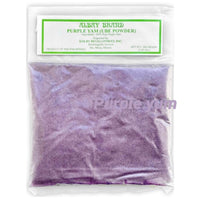 Albay Purple Yum Powder. 
Powdered Purple Yum. 
This ube powder can perfectly serve as a basis for your own created Purple Yam or as the basis for cakes, ice cream and various other types of desserts.
Ingredients:
Pure Purple Yam 100%. 
Allergen:
See ingredients in bold.
Features:
Suitable for vegetarian.
Usage:
Use for baking, dessert.
Preparation:
Soak powdered ube in water or simmer mixture until rehydrated
Recipe
Ube Halaya

Recipe 1:
1 pack 115g Powdered Ube
4 cups water for rehydration
1 can 370 ml evaporated milk
1 can 300 ml condensed milk
½ or ¾ cups sugar or as desired
1 tablespoon butter or margarine
Vanilla or pandan extract or grated lime rind for flavour (optional)

Directions:
Soak powdered ube in water or simmer mixture until rehydrated. Add evaporated milk, condensed milk and sugar. Mix thoroughly until smooth. Pour in cooking pan preferably non-stick and cook over low flame for at least 30 minutes. Stir constantly until the mixture forms into a thick paste or to desired consistency. Add the vanilla or pandan or grated lime and the butter or margarine anytime during the last 10 minutes of cooking. Serves 20 either as dessert or as a filling for pies, siopao or hopia.

Recipe 2:
For cakes, ice cream, halo-halo and other preparations, simmer powdered ube and water mixture until proper rehydration is achieved. Add sugar, dairy, butter or other ingredients to taste or as necessary. Cook for at least 20 minutes over low flame and to desired consistency. For cake or ice cream, add to cake or ice cream mix then follow usual direction for baking cake or making ice cream. For halo-halo, pour on top like a cream before serving the halo-halo. Use for 1 medium sixed cake or 2 gallons of ice cream.

For cooking convenience, always rehydrate powdered ube!
Storage:
Keep in a cool dry place, away from sunlight.
Packaging:
Packet
Weight:
200g
Product of Origin:
Philippines
Distributor:
SUNTAN INDUSTRIES (UK) LTD.
The Alpha Centre, 7-11 Minerva Road
Park Royal, London,
NW10 6HJ.
Disclaimer
The above details have been prepared to help you select suitable products. Products and their ingredients are liable to change.
You should always read the label before consuming or using the product and never rely solely on the information presented here.
For all other products, please contact the manufacturer, whose details will appear on the packaging or label. AOS is therefore unable to accept liability for any incorrect information.
You should also note that the picture / images show only our serving suggestions of how to serve or prepare your food – all accessories and additional items and/or ingredients pictured with the product you are purchasing are not included.
This information is supplied for your personal use only. It may not be reproduced in any way without the prior consent of AOS and due acknowledgement.