---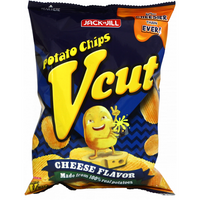 Jack 'n Jill Vcut Cheese Flavour Potato Crisps
Made from 100% real potatoes

No need for cameras to make you say 'cheese' - just a bag of Potato Chips Vcut bursting with exciting cheese flavour!

Made from 100% fresh potatoes, these large ridge-sliced chips are so crisp and tasty you'll keep coming back for more.

Now say 'cheese' and open a bag of Potato Chips Vcut Cheese!

Allergy Advice: Contains Cheese, Whey, Milk.
Produced in a facility that handles gluten and soya.

Store in a cool dry place.