---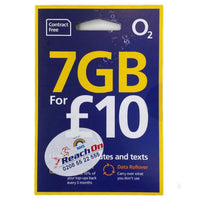 7GB Data Sim Card.
Once your sim's active, we may get in touch from time to time about products and services
we think you'll benefit from and savings you could make. You can opt out at any time by
calling 2220 for free. To know more about how we use personal data go to our Privacy Policy
at: 02.co.uk/termsandconditions/privacy-policy. £10 min top up. Bundle tariff value is the minimum
monthly credit balance or top up required to activate & renew bundle. Bundle will continue to automatically
renew on your bundle renewal date if you have sufficient credit. If bundle does not renew or is consumed, standard charges apply. You can switch bundles once a month to take effect from your bundle renewal date. UK calls/texts to standard UK landlines & mobiles and when roaming in our Europe Zone. Special & out of bundle numbers chargeable. Unused credit not refundable. 02 Wifi: Subject to availability.
Priority:
Active 02 customers only. 16+. Internet access & registration required. Offers subject to eligibility &
availability. 02 Rewards: Opt-in required. Max reward £150 every 3 months. 5% for first 6 months,
10% thereafter. Selected vouchers only. Mobile Broadband excluded. Information correct at time on going to print - July 2021. Fair usage policy and terms apply, see o2.co.uk/terms & 02.co.uk/wifi. Data rollover included. On your monthly renewal date you can carry forward up to 100% of your standard monthly data allowance ("Roll Over Data") into the following month's data bundle, subject to your total data bundle (Roll Over Data + standard monthly allowance) not exceeding 200% of your standard monthly data allowance at any one time. Any data that cannot be rolled over will expire. Roll Over Data will expire immediately if you fail to renew your Big Bundle on time or if you change tariffs.