---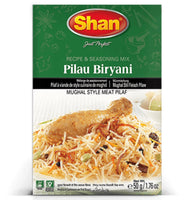 Shan Pilau Biryani Mix has a perfect blend of rich and aromatic spices which helps you in preparing the perfect twist of Biryani and Pilau for an appetizing and flavorful treat.
Ingredients:
Salt, Garlic, Ginger, Cumin, Bay Leaf, Cardamom, Carom, Green Cardamom, Clove, Red Chilli, Sugar, Coriander, Turmeric, Hydrolyzed Soy Protein, Maltrodextrin, Canola Oil, Natural Food Flavor, Silicon Dioxide.
Nutrition:
Serving size

1 tbsp (8 g)

% Daily Value*
Total Fat
0 g
0%
Saturated
0%
Trans
0 g
Cholesterol
0 mg
0%
Sodium
1550 mg
65%
Total Carbohydrate
3 g
1%
Dietary Fibre
1 g
4%
Sugars
0 g
Protein
0 g
Vitamins A
2%
Vitamin C
0%
Calcium
2%
Iron
2%
* Percent Daily Values are based on a 2,000 calorie diet.
Pack List:
| TYPE | FORMAT | SIZE |
| --- | --- | --- |
| SP | Powder | 50g |
| Bottle | Cooking Sauce | 310g |
Allergen:
May contain Sulphite, Sesame, Mustard and Tree Nut.
Storage:
Store in a cool and dry place.
Pack Size:
50g
Country of Origin:
Recipe:

Ingredients: As Per 50g
Meat on Bones 1 KG/2.2 lbs

small portions

Rice Basmati 3 ½ cups / 750 g

washed and soaked

Garlic Paste 1-2 table spoons

Ginger Paste 1-2 table spoons

Plain Yogurt 1 cup / 200g

whipped

Yellow Food Color ¼ teaspoon (optional)

Shan Pilau Biryani Mix 1 packet

PREPARATIONS:
Add meat and garlic paste, ginger paste, Shan Pilau Biryani Mix and water (Beef/Goat/Lamb 2 cups, Chicken 1 cup). Cover and cook on low heat until meat is tender (about 1 cup of stock should remain in the pot).
Stir-in yogurt and keep aside.
Separately: in 15 cups / 3 liters of boiling water, stir in 2 table spoons of Shan Salt and soaked rice. Boil rice until ¾ cooked. Remove and drain thoroughly.
Spread half rice in a pot and pour meat curry over it. Top with remaining rice. Sprinkle food color if desired.
Heat oil and fry onion until golden and pour evenly over rice. Cover and cook on low heat until rice is tender (5-10 minutes). Mix before serving.
Tips: Use long grain old basmati rice. Beginners must use Parboiled / 'Sayla' rice.
Meat: Use Breast and Shoulder cuts.
Manufacturer:
Shan Foods (Private) Ltd.,
29, Sector 23 Korangi Industrial Area,
Karachi 74900,
Pakistan.
Disclaimer
The above details have been prepared to help you select suitable products. Products and their ingredients are liable to change.
You should always read the label before consuming or using the product and never rely solely on the information presented here.
For all other products, please contact the manufacturer, whose details will appear on the packaging or label. AOS is therefore unable to accept liability for any incorrect information.
You should also note that the picture / images show only our serving suggestions of how to serve or prepare your food – all accessories and additional items and/or ingredients pictured with the product you are purchasing are not included.
This information is supplied for your personal use only. It may not be reproduced in any way without the prior consent of AOS and due acknowledgement.