---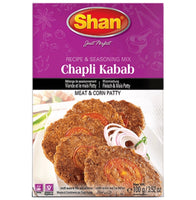 Sale
Shan Chapli Kabab Mix enables you to experience the authentic traditional taste of delicious Pashtun-style Chapli kababs.
Ingredients:
Wheat flour, Salt, Red Chilli, Coriander, Cumin, Ginger, Garlic, Dehydrated Onion, Pomergrante Seeds, Black Pepper, Black Cumin, Cinnamon, Bay Leaves, Fenugreek Leaves, Carom, Dried Mango Powder, Maltodextrin, Hydrodysed SOY Protein, Cane Sugar, Canola Oil, Acid: Citric Acid, Anitacaking Agent: Silicon Dioxide.
Nutrition:
Serving Size:

1 tbsp (8 g)

Servings Per Container

13

Servings Par Contenant

13

% Daily Value
Total Fat
1 g
2%
Saturated
0 g
0%
Trans
0 g
Cholesterol
0 mg
0%
Sodium
1190 mg
50%
Total Carbohydrate
3 g
1%
Dietary Fibre
1 g
4%
Sugars
1 g
Protein
1 g
Vitamin A
8%
Vitamin C
0%
Calcium
2%
Iron
4%
Percent Daily Values are based on a 2,000 calorie diet.
Packaging List:
| TYPE | FORMAT | SIZE |
| --- | --- | --- |
| SP | Powder | 100g |
Allergen:
May contain traces of Sulphite, Sesame, Mustard, Gluten and Tree Nuts.
Lifestyle:
Halal. Suitable for Vegetarians.
Store in a cool and dry place.
Country of Origin:
Recipe:
Ingredients: As Per 100g
Ground/Minced Meat 750g (600g meat + 150 g fat / suet)

Tomatoes 1-2 medium, thin round slices

Onions 250g / 3 medium, very finely diced & squeeze in a cloth to remove liquid

Green Chilies 4-6 medium, finely chopped

Ginger Paste 2 tablespoons

Garlic Paste 3 tablespoons

Cilantro/Fresh Coriander 3 tablespoons, chopped

Eggs 1-2, whisked

Cooking Oil 500 ml / 3 cups, for shallow frying

Shan Chapli Kabab Mix 1 packet, mix in ½ cup water. 
Preparations:
Mix all the above ingredients except oil and knead well. Set aside and marinate for 30 minutes.
Make thin flat kabab / patties with wet hands and paste a slice of tomato on one side. Shallow fry until crisp brown on both sides. Serving Suggestion: Serve hot with diced fresh salad and Shan Tamarind / Green Chutney. Tips for Best Result: For a richer taste, add 100 - 200g beef bone marrow and ½ cup maize flour in the above ingredients.
Manufacturer:
Shan Foods (Private) Ltd.,
29, Sector 23 Korangi Industrial Area,
Karachi 74900,
Pakistan.
Disclaimer
The above details have been prepared to help you select suitable products. Products and their ingredients are liable to change.
You should always read the label before consuming or using the product and never rely solely on the information presented here.
For all other products, please contact the manufacturer, whose details will appear on the packaging or label. AOS is therefore unable to accept liability for any incorrect information.
You should also note that the picture / images show only our serving suggestions of how to serve or prepare your food – all accessories and additional items and/or ingredients pictured with the product you are purchasing are not included.
This information is supplied for your personal use only. It may not be reproduced in any way without the prior consent of AOS and due acknowledgement.