---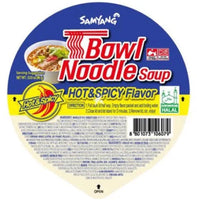 This Spicy Bowl Noodle will tingle your taste buds because it is made from delicious beef broth. It contains a variety of vegetables and spices, and its flavor was derived from a traditional Korean dish that is reportedly good for the mind, body, and soul.
Yukgaejang is a spicy-hot Korean traditional beef stew made of beef brisket and various vegetables and seasoning. Since it has various healthy vegetables and garlic, Yukgaejang is regarded as Korea's first choice of soup food.
RICH BEEF FLAVORS – Rich flavors of beef brisket enhanced with various spices and seasonings to create a rich and spicy ramen.
HOT AND SPICY – The flavor was derived from a traditional Korean beef stew that contains a variety of vegetables and spices and will tingle your taste buds.
CONVENIENT ON-THE-GO MEAL – Only takes minutes to cook using hot water or the microwave for a hot snack or delicious meal anytime.
Ingredients:
Noodle: Wheat Flour, Potato Starch, Modified Starch, Salt, Guar Gum, Soybean Oil, Sugar Solution, D-Sorbitol Solution, Lecithin, Ployglycerin Fatty Acid Ester, Potassium Carbonate, Sodium Carbonate, Sodium Phosphate Dibasic, Sodium Polyphosphate, Pyro Sodiumphosphate, Citric Acid, Riboflavin, Palm Oil.
Soup: Salt, Monosodium L-Glutamate, Sugar, Hydrolysed Vegetable Protein, Pork Flavour Seasoning Powder (Artificial), Beef Seasoning Flavour (Artificial), Red Pepper Seasoning Powder, Garlic Powder, Onion, Red Pepper Seed Oil, Dextrin, Oleoresin Capsicum Coating Powder, Yeast Extract Powder, Oleoresin Paprika, Disodium Succinate, Glucose, Sodium 5'-Inosinate, Sodium 5-Guanylate, Dried Carrot, Dried Square Fish Cake, Dried Scroll Fish Cake, Dried Welsh Onion, Dried Radish Green, Dried Cabbage, Dried Red Pepper Flake. 
Allergy advice
For allergens, see ingredients in bold.
Country of Origin
South Korea
Storage
Store in a dry place.
Direction:
Pull back lid half way. Empty flavour packet and add boiling water.
Close lid and let stand for 3 minutes.
Remove lid, stir, enjoy. 


Item Code:
108259