---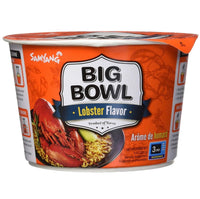 A hearty helping of meaty lobster flavour ramen.
Generously sized to satisfy the biggest appetites, this lobster flavoured ramen soaks its firm and chewy noodles in a lusciously salty, seafood instant soup. Flavoured with bonito, shrimp soy sauce and a crisp green pepper vegetable stock, the soup provided with this ramen captures the fresh and mellow savouriness of freshly-caught lobster, with soy sauce and oily chilli spices helping to permeate the fine flavours through the springy bite of its noodles. As easy to prepare as it is to slurp up, this convenient ramen soup provides a full course of luxury lobster taste that's cooked up with just hot water. Made in Korea.

Ingredients:
Noodle (86.4%): Wheat Flour, Modified Tapioca Starch, Refined Palm Oil, Refined Salt, Emulsifier [Lecithin (E322)], Onion Extract, Acidity Regulator [Potassium Carbonate (E501), Sodium Carbonate (E500), Sodium Phosphate Dibasic (E339), Citric Acid (E330)], Thickener [Guar Gum (E412)], Green Tea Flavour Oil.
Soup (11.9%): Salt, Flavour Enhancer [Monosodium - Glutamate (E621), Disodium 5'-Ribonucleotide (E635)], Sugar, Bonito Powder, Vegetable Powder (Green Pepper, Garlic, Radish, Black Pepper), Shrimp Extract Powder, Onion Extract Powder, Cuttlefish Powder, Soy Sauce Powder, Yeast Powder, Artificial Chicken Flavour Powder, Mixed Spicy Powder (Chilli, Garlic, Onion), Palm Oil, Lobster Flavour Oil, Paprika Extract.
Flake (1.7%): Dried Bok Choy, Dried Scroll Fish Cake, Dehydrated Green Chives. 
Nutrition
Per 100g:
• Energy: 1762kJ/421kcal
• Fat: 13.7g
  (of which Saturates: 6.3g)
• Carbohydrate: 68.4g
  (of which Sugars: 3.2g)
• Protein: 8.4g
• Salt: 4.1g