---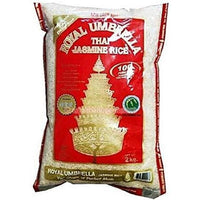 This Thai Jasmine Rice cooks easily and our Royal Umbrella Thai Hom Mali Rice has a beautiful Jasmine fragrance that you will notice when you are cooking it. Easy to cook, with great results, we know that you will love this Thai Jasmine Rice, and buying it from us offers you great value as well!
Royal Umbrella Thai Fragrant Jasmine Rice (Thai Hom Mali)
Royal Umbrella Rice emphasizes a lot on the standard and quality starting from the selection of raw materials of high quality.
100 Percent pure Thai jasmine rice
Hygienic and delicious
World renowned high quality fragrant rice
From the native wisdom of agricultural heritage
Brand: Royal Umbrella
Product of Thailand