---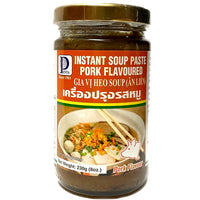 Penta Instant Soup Base Pork Flavoured (Gia Vi Heo Soup An Lien)

Cooking Instruction
1. Add 2 tablespoons of Instant Pork Soup Paste in 3 cups of boiling water.
2. Mix well, add your choices of meat or any vegetables as preferred.
3. Wait until done then served.

Refrigerate after opening.
This product does not contain any animal meat.
Ingredients:
Sugar, Garlic, Water, Salt, Soybean Oil, Spices, Flavour Enhancer (Monosodium Glutamate, Disodium 5-Inosinate, Disodium 5-Guanylate), Acidity Regulator (Acetic Acid, Citric Acid), Yeast Extract, Artificial Pork Flavour.