---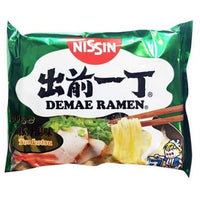 Nissin Demae Ramen Tonkotsu Noodles.
Noodle Soup by Original Japanese Recipe. Tonkotsu Flavour.
A hearty noodle meal in minutes.
Ingredients:
Noodles: Wheat Flour, Palm Oil, Tapioca Starch, Salt, Acidity Regulator (452, 501, 451, 500, 339, 450), Thickener (1400, 401, 412), Antioxidant (307b, 304), Green Tea Powder.
Soup Base: Salt, Whole Milk Powder, White Sugar, Flavour Enhancer (621, 627, 631), Sesame Seeds, Flavour and Flavouring (Pork), Garlic Powder, Glucose Syrup, Yeast Extracts, Spices, Hydrolysed Soya Protein, Palm Oil, Soya Sauce Powder (Soya Beans, Wheat, Salt), Dehydrated Green Onion, Onion Powder, Rice Oil, Anticaking Agent (551), Milk Protein, Colour (150a), Acidity Regulator (330).
Seasoning Sauce: Flavour and Flavouring (Pork, Chicken), Sesame Oil, Soya Sauce (Soya Beans, Wheat, Salt), Cooking Wine, Palm Oil, White Sugar, Rice Oil, Flavour Enhancer (621), Salt, Thickener (466).
Allergen:
May contain traces of Celery, Crustacean, Fish, Molluscs and Mustard
Cooking Directions:
Preparation:
1. Put noodles in 500ml boiling water and cook for 3 minutes.
2. Remove from heat add enclose soup powder and oil. Serve immediately.
Garnish with your favourite meat & vegetables and enjoy.
Weight:
100g
Country of origin: