---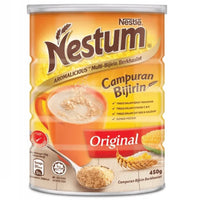 Sale
Nestum.
Nutritious hot cereal made from wholegrain wheat, corn and rice.
Source of wholesome Fibre, Protein, Vitamin A & C and Iron
Best served with dried fruits for extra natural sweetness
All Family Cereal was first introduced to Malaysia in the 1960s and is enjoyed by the young and old alike.
Store in a cool and dry area.

Malaysia

Nestle Products Sdn. Bhd. 22-1, 22nd Floor, Menara Surian, No.1, Jalan PJU 7/3, Mutiara Damansar

Tin

Malaysia
wholemeal wheat, rice, corn, extract of malt barley and starch, sugar, minerals, salt, vitamins, contains stabiliser as permitted food conditioner, permitted flavour vanillin. All additives are of synthetic origin, may contain milk and soya.