---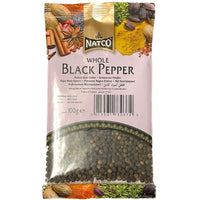 Sale
One of the World'd most important spices,Whole peppercorns are the small round berries of a climbing vine-the 'Piper Nigrum'. No other spice can do so much for so may foods. Use for pickling, flavouring soups, meats, poultry, fish or simply grinding directly on to food.
The worlds most popular spice. True pepper is actually a berry (not be confused with paprika, cayenne pepper, chilli pepper, red pepper and bell pepper).
Whole black peppers are the dried berry fruit containing a single seed. The dried fruit flesh gives the wrinkled apearance typical of black peppercorns. Pepper gets its heat from the piperine compound found in the fruit skins and the seed itself. The skin also contains important flavour compounds which give black pepper its distictive citrus and woody notes. White pepper has the fruit and skin removed which determines the difference in flavour between black and white pepper.
Culinary Uses:
Pepper is best ground directly on to food. With hot food it is best to add pepper well towards the end of the cooking process, to preserve its aroma. White pepper is used in white sauces rather than black pepper, which would give the sauce a speckled appearance. Green peppercorns can be mashed with garlic, cinnamon or to make a spiced butter or with cream to make a fresh and attractive sauce for fish. Pink peppercorns are called for in a variety of dishes, from poultry to vegetables and fish.
Ingredients - Whole Black Pepper
Allergy Advice - Packed in a factory that handles nuts in a separate area.
Storage: Once opened remove to an airtight container. Store in a cool dry place.
Country Of Origin: Vietnam
Suitable for Vegetarians, Gluten Free
Disclaimer
The above details have been prepared to help you select suitable products. Products and their ingredients are liable to change.
You should always read the label before consuming or using the product and never rely solely on the information presented here.
For all other products, please contact the manufacturer, whose details will appear on the packaging or label. AOS is therefore unable to accept liability for any incorrect information.
You should also note that the picture / images show only our serving suggestions of how to serve or prepare your food – all accessories and additional items and/or ingredients pictured with the product you are purchasing are not included.
This information is supplied for your personal use only. It may not be reproduced in any way without the prior consent of AOS and due acknowledgement