---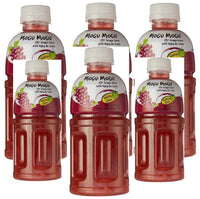 Mogu Mogu Grapes - A best sellers that are enamored by all with its unique characteristic presence of aroma, grape-like color, juicy texture, and perfect sweetness.
Mogu Mogu Grapes is the best choice for anyone who loves grapes. It is a refreshing and delicious drink that will make you feel as if it was just picked right from the trees.
Nutrition: per cup
Calories: 170 
Fat: 0% 
Carbohydrate: Sugar 36g 
Protein: 0%.
Ingredients:
Water 66.78%, Nata de Coco 25%, Fructose 4%, Sugar 4%, Acidity Regulator (Citric Acid), Nature Identical Flavour (Lychee), Preservative (Sodium Benzoate). Contains Added Coconut.