---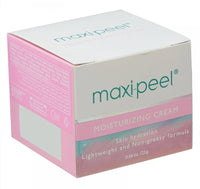 Maxi Peel Moisturizing Cream
Maxi Peel Moisturizing Cream provides total moisturization for exfoliating skin.
Maxi Peel Moisturizing Cream is specifically designed for exfoliant treated skin. It brings in moisture and counters flakiness experienced by exfoliant-treated skin. It protects your skin as it undergoes transformation towards celebrity like skin.
Non-greasy, quick absorbing cream that easily penetrates skin.
Provides maximum moisture to keep skin soft, smooth and supple.
Helps hide visible effects of exfoliation such as flakiness and dryness.
Perfect complement to Maxi Peel Exfoliant Solution.
Dermatologist tested safe and effective.
Ingredients:
Water, Cetyl Alcohol, Stearic Acid, Glyceryl Monostearate, Isopropyl Myristate, Mineral Oil, Propylene Glycol, Triethanolamine, Dimethicone, Glycerin, Sodium Chloride, Ceteareth-25, Citric Acid, Phenoxyethanol, Methyl/Propyl Paraben, Butylated Hydroxytoluene, Fragrance