---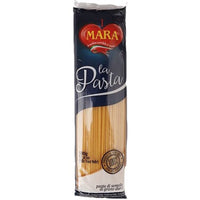 Mara Spaghetti 500g. Italy Brand.
Our product is obtained by extrusion and subsequent drying of dough prepared with durum wheat semolina and water, in accordance with the law n ° 580 of July 4, 1967Ingredients: Durum whole wheat semolina, water.Allergens: contain gluten. (Legislative Decree 114/2006 as amended by Legislative Decree 178/2007- Wheat EU Reg.1169/2011) No other allergens included.GMO: Absent (reg. EC 1829-1830/2003) According to REGULATION (EC) No 1829/2003 on genetically modified food and feed and to REGULATION (EC) No 1830/2003 concerning the traceability and labelling of genetically modified organisms and the traceability of food and feed products produced from genetically modified organisms , the policy adopted by the company in the field of genetically modified orga-nisms is strongly conservative, preserving the quality of the ingredients and raw materials and excluding GMOs
---
Packaging: 20X500 n.w.
Weight (kg): 10.249
Volume (m³): 0,012
Ean Code: 8000066446776
Cooking Time: 9 min