---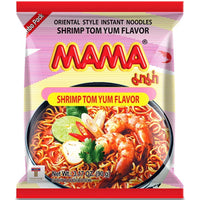 Mama is a popular instant noodle brand from Thailand. This shrimp flavor ramen has already seasoned. This noodle is spicy and sour and contains aromatic lemon grass and kaffir lime leaves and galangal. Just put the noodles and condiments in the bowl.
Ingredients:
Wheat Flour (64%), Palm Oil, Modified Tapioca Starch, Sugar, Salt, Chilli Powder, Spices, Flavour Enhancers (E621, E635), Citric Acid, Coconut Sugar, Fish Sauce (Fish, Salt, Sugar), Dried Spring Onion, Shrimp Powder(Crustacean) (0.21%), Acidity Regulators (E500, E501, E451), Flavouring(0.05%), Thickener (E466), Soy Sauce (Soybean, Water, Salt).


Cooking Directions:

Add noodles and seasoning to 400 ml of boiling water. Cover and stand for 3 minutes, Stir occasionally before serving.


Allergen Information:
Contains: Wheat, Fish, Shrimp (Crustacean), Soy.
This product may contain traces of egg, milk, sesame and celery.


Storage:
Store in a cool dry place..