---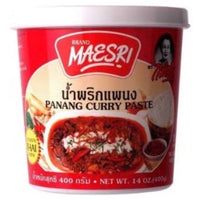 Panang curry paste is a blend of Thai lemongrass, galangal, kaffir lime and chilli. Panang curry paste brings a distinct, fragrant flavour and mild heat to curries and stir fries. Named after the island Penang, off the west coast of Thailand, panang curries are slightly sweeter and drier than other varieties of Thai curry.
Mix this panang curry paste with coconut cream and add to stir-fried beef for panang beef, also known as phanaeng and penang curry.
This authentic Panang Curry from Maesri makes a quick and delicious Panang Curry.
Ingredients:
Dried red chilli 30%, garlic 23%, shallot 17%, lemongrass 10%, sugar 9%, salt 7%, kaffir lime 2%, galangal 1%, spices 0.8% (coriander seeds, cumin, cardamom, bay leaves), citric acid 0.2%
Origin:Thailand

Size:400g

SKU:MI0031

Minimum shelf life:4