---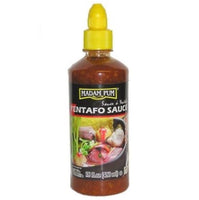 Madam Pum Yentafo Sauce 450ml.
Our Madam Pum Yentafo sauce is used for making the famous Thai Pink Noodle dish Yenta Fo.
Simply add the Madam Pum Yentafo Sauce to your choice of meat, fish, vegetables and noodles to create  stunning Pink Noodle Dish which packs loads of flavour!
Product of Thailand.
Ingredients: 
Water, Sugar, Salt, Red Chilli (6%), Garlic, Modified Corn Starch, Soy Bean Curd, Acetic Acid, Flavour Enhancer (E621), Citric Acid, Colours (E129, E120).