---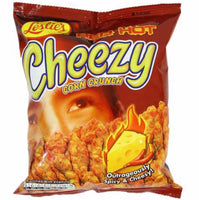 Explode with Red hot Cheezy the outrageously spicy andcheesy corn crunch. With its extreme spiciness and creamycheesy crunch, Red Hot Cheezy will surely set your party on fire. Each serving of Red Hot Cheezy contains about 1/3 of your recommended daily allowance for Vitamin A and B-Complex. 

Product of Philippine.
Ingredient

Corn (68%), Palm Oil, Coconut Oil, Soybean Oil, Cheese Powder (4.5%), Chilli Powder (1.3%), Onion, Salt, Sugar, Cayenne Pepper (0.3%), Flavour Enhancer: E621, Dextrose, Vitamins: Vitamin A, Vitamin B1

Nutrient

100g per serving: Energy 2187.8Kj / 523.6Kcal, Protein 6.7g, Carbohydrate 56.7g, Sugars 3.3g, Fat 30g, Saturated Fat 23.3g, Fiber 3.3g, Sodium 0.8g.

Brand

Leslie's