---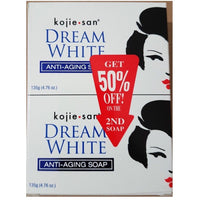 Collagen plumps fine lines and wrinkles
Elastin provides a firming effect
Makes skin look younger by fading sun damage
Provides overall lightening for a more youthful glow
Skin will look increasingly younger and fairer with regular use
Coconut oil conditions skin and gently treats acne
Lush scent for a luxurious cleansing experience
Gentle enough to be used as a daily facial cleanser
Skin lightening Soap (for dark spots due to acne, age spots, freckles, sun-damaged skin, and other  skin pigmentation)
Dream White Soap combines the anti-aging properties of collagen and elastin with the lightening properties of kojic acid in a vanilla-scented soap bar. While the skin naturally generates collagen and elastin, harmful substances brought about by pollution slow down its production. Dream White Soap has a dual action formula that lightens skin and prevents the occurrence of wrinkles as well as other early signs of aging.
Kojic acid was discovered while processing rice for Japanese wines. The naturally derived ingredients in this soap have been proven to safely and quickly reveal even skin by gently smoothing away dark spots, discoloration, and other imperfections.*.
Ingredients:
Coconut Oil, Water, Sodium Hydroxide, Titanium Dioxide, Kojic Acid, Collagen, Elastin, Etc.
Direction:
Lather soap and apply to treatment areas. Leave the soap on for up to 30 seconds. Apply once per day and increase to twice a day if well tolerated. If dryness occurs follow with a moisturizing cream.
NOTE:All skin whitening products should be used in conjunction with sunscreen.