---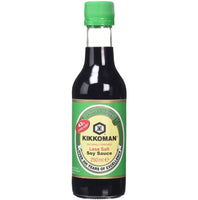 Premium Soy Sauce (Less Salt) 250ml by Kikkoman
All Purpose Fat Free Seasoning
 
Kikkoman Soy Sauce is naturally brewed over several months, resulting in a top quality, richly coloured, aromatic soy sauce that is perfect for all types of seasoning. This is an instance when less is definitely more. Kikkoman contains only four ingredients: soybeans, wheat, salt and water. Made using non-genetically modified soybeans and wheat.
 
Its rich, mellow flavour comes from long months of unhurried natural brewing. Use it to bring an authentic taste to your stir fries. And remember it makes a superb store cupboard seasoning for everything from sushi to shepherds pie.
Kikkoman Naturally Brewed Less Salt Soy Sauce is no less delicious than the original and its unique savoury flavour remains fully intact. ... Add it to your sauces, soups, vegetables or pan-fried dishes to optimise the flavour.
 
Only 11 kcals per tablespoon of Kikkoman Soy Sauce, and zero fat, making it the perfect way to add flavour to food for anyone on a calorie controlled diet.
 
No artificial flavour enhancers, preservatives or colouring.
Ingredients: Water, soybeans, wheat salt.
Product of Netherlands.
Item Code:
B0038