---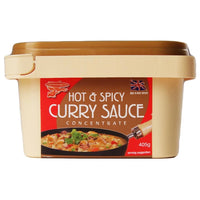 Goldfish Chinese Hot and Spicy Curry Paste unique blend of spices to create a richer and more aromatic curry sauce for those who appreciate a more full-bodied taste and aroma without the full chilli heat.
Cooking Instructions:
Add 100g concentrate to 300g hot water to make two servings. Dissolve thoroughly, bring to the boil, stir and simmer. The sauce is now ready.

Serving Suggestions:
Stir-fry some slices of of your favourite meats and vegetables, then mix in the ready made sauce.

Simply use as a potato chip dip or pour over boiled potatoes or rice.

Still the same family recipe since 1961.

It's delicious and it's that easy!

Allergy Information: Contains Wheat Flour, Mustard Seed.
May contain traces of soya and celery.

Once opened, replace lid and store in a cool dry place.

Please note: Oil or yellow salt crystals on the top of this product are a perfectly natural part of the sauce.