---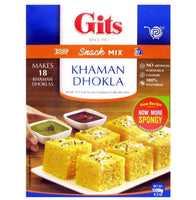 Sale
Gits Khaman Dhokla Mix 500g

Ready to cook savory garbanzo cake dry mix, 100% Vegetarian, No preservatives, No artificial Flavour or colour, A Speciality of western indian state of Gujrat, Khaman Dhokla is a popular, Traditional snack made from fermented chana dal batter
This is a Vegetarian product. Ready in 3 easy steps 100 percent vegetarian No preservatives

How to prepare:
1. Blend 75ml oil and 650ml water, pour into khaman Dhokla mix gradually , blend very gently with minimum stirring until batter is smooth

2. Pour batter into 5 backing trays greased with oil, steam on high flame for 15mins , if pressure cooker is used, do not apply weight or whistle, remove and allow to cool for 10mins and cut into 2 inch cubes or wedges

3. Heat 75ml oil add 2 and 1/2 tbsp mustard seeds, when crackiling add a pinch of asafoetida powder, and 2 and 1/2 tbso of sesame seeds, then put off gas spread evenly over the Khaman Dhokla pan cake, sprikle 5tbsp of each fresh coconut and chopped coriander leaves serve with green chutney

Ingredients: Chick peas flour, Semolina, sugar powder, salt, citric acid and sodium bicarbonate, Asafoetida, turmeric and sodium acetate.

Percent daily values are based on 2,000 calorie diet, your daily values may be higher or lower depending on your calorie needs, Packed in a plant that processes dairy, wheat flour, Tree nuts and sesame seeds.
Nutritional Information per 100g