---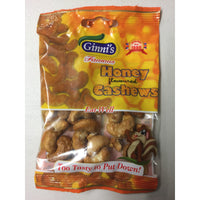 Honey Cashew Nuts, delicately coated with sweet, bee-utiful honey for a delicious treat. 
Ginni's handy portion sizes of Honey Cashew Nuts are perfect for snacking and ideal for taking out and about with you. 
Powerhouse of energy and an excellent source of protein, minerals and vitamins. Enjoy before working out, or anytime of day for extra fuel!
Enjoy Ginni's Honey Cashew Nuts at the office, home, school or gym – the perfect snack anytime and anywhere. Do you want a change from popcorn or sweets at the cinema? These make a delicious alternative
Cashew Nuts are rich in vitamin E and a good source of minerals, particularly magnesium and zinc. They can help lower blood pressure, and encourage healthy bones. Honey is packed with flavonoids and antioxidants, known to fight some forms of cancer, and heart disease.