---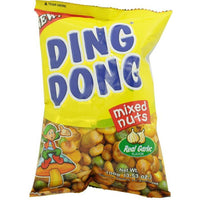 Ding Dong Mixed Nuts (Hot & Spicy Flavour) 
25% More Peanuts 
A great way to enjoy your munching with this high-grade mixed nuts in a pack! 
Cornick, Green Peas, Cracker Nuts, Peanuts & Fava Beans... 
All in one snack. 
Allergy Advice: Contains Groundnut, Peanut, Soy, Wheat Gluten. 
Storage: Store in a cool dry place. Once opened, store contents in an air-tight container and consume within 7 days.