---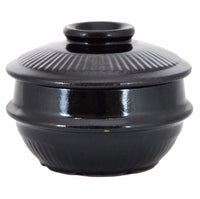 Stone pot(Stone Bowl) are popular in Korea. The Korean stone pot, called the dolsot, is safe to use on the stove top or in the oven. It is commonly used to make the dish dolsot bibimbap, rice, jjigae stew (tang, soup). Preparing the pot is just as crucial as preparing the ingredients, as it can keep it from cracking or splitting during the cooking process.

- Good for 
bibimbap, spicy pork bone soup (Gam Ja Tang), 
beef short rib soup (Gal Bi Tang), 
ginseng chicken soup (Sam Gye Tang), 
spicy tofu stew (soon Du Bu Jji Gae), 
soybean paste stew (Dwen Jang Jji Gae), 
kimchi stew (Kimchi Jji Gae).

- Premium stoneware (ceramics) made from fine clay
- Safe to use on stovetop, in ovens and microwaves. 
- Dishwasher safe.
- Easy to maintain, and more sanitary
- long-lasting compared to bowls made with natural stone
- Perfect for creating sizzling bibimbaps and serving stews or soups hot and delicious. 
- Lid  included.