---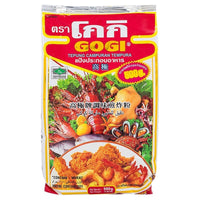 Gogi Tempura Flour Batter Mix is traditionally used for making a perfectly light tempura batter. The Gogi Tempura Battershould be mixed with cold water and stirred briefly to create a light & crispy tempura batter. It can be used to coat vegetables, a wide range of meats, fish, shrimp and shellfish.
Cooking Directions:
Mix 1 sachet (500g) Gogi with 700 cc of cold water (portion of mixing can be determined as needed)
Pour cold water into Gogi flour, mix well together.
Dip vegetable or meat into batter and fry in hot fat or oil until crispy golden brown.