---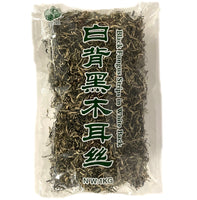 Dried black fungus strips are often used in Chinese dishes, it has a firm texture that is a great addition to stir-fried dishes, soup based dishes, and Chinese stews.
Black fungus is also called "cloud ear" (云耳) or "wood ear" (木耳).
Wood Ear Mushrooms cut into strips.

Usage:
Soak in cold water for 30 mins, rinse and drain. Now it is ready for use.

Preparations:
To prepare "ear" fungus, immerse them in hot water for 20-30 minutes. They will puff up to about six times their normal size (so plan accordingly in the amount you use). They can then be squeezed dry. Cut away any over-hard parts, and slice for use in stir-fries, soups, or other uses.17

Store in a cool, dry condition.
Ingredients:
Black Fungus (100%).
Allergens:
(Allergens in bold)
GINGER AND BLACK FUNGUS CHICKEN RECIPE
Ginger and black fungus chicken is a plain and humble dish that anyone can whip up in their kitchen. It's delicious and goes well with steamed rice.
INGREDIENTS
1 1/2 tablespoons cooking oil
2 inches (5 cm) ginger, peeled and cut into thin strips
1 small red onion, quartered
4 pieces dried black fungus, softened in warm water for 30 minutes, then cut into bite-size pieces
1 teaspoon fermented soy beans (taucheo)
1 skinless & boneless chicken breast, cut into strips
1 teaspoon oyster sauce
1 1/2 teaspoons sweet soy sauce (kecap manis)
1 teaspoon sugar
2 tablespoons water
1 stalk scallion, cut into 1 inch (2 cm) length
INSTRUCTIONS
Heat up the cooking oil in a wok and stir fry the ginger strips until aromatic. Add in the red onion and black fungus and do a few quick stirs.
Add the fermented soy bean before adding the chicken strips into the wok. Stir-fry the chicken until the surface turns white.
Add in oyster sauce, sweet soy sauce (kecap manis) and sugar. Stir all ingredients together before adding the water. Add the scallions, do a few quick stirs, dish out and serve hot with steamed rice.