---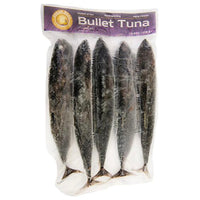 Bullet Tuna (Tulingan). 
Frozen bullet tuna fish (also called Tulingan or Bonito) used in Filipino cuisine. Slender species of the tuna fish family, loved for their taste and used for various recipes from soups to BBQs. Suitable to cook by frying, poaching or grilling but often seasoned with salt and cooked with water. Can be used to prepare Filipino ginataang tulingan or sinaing na tuligan recipes. 
Frozen bullet tuna. Caught at FAO71 Area, Pacific Osean. 
Ingredients:
Bullet Tuna (100%).
| Typical Value | Per 100g |
| --- | --- |
| Energy | 954kJ / 228kcal |
| Fat | 4g  |
| Of which Saturates | 0g |
| Carbohydrate | 2g |
| Of which Sugars | 0g |
| Fibre | 0g  |
| Protein | 46g  |
| Salt | Trace |
Features:
Frozen gutted, process in Vietnam.
Usage:
Use for frying, poaching or grilling, and soup,
Preparation:
Deep fry till golden brown.
Storage:
keep frozen- 18% or below.  
Once thawed do not freeze. Cook throughly before consumption.
We do our best to dispatch the frozen/chilled item on next day delivery using temperature controlled packs. Products maybe defrosted when arriving to customer but still in good condition to cook on the same day. However, delay with the courier and customer not being at home during the delivery can happen and we have no control over this. Frozen item can therefore only sent at 100% customer risk. By agreeing to purchase this product you are aware that we can not accept return or refund for the frozen/chilled product.
Packaging:
Bag / Plastic
Weight: 
900g
Product of Origin:
Vietnam